Credit card processing


Credit card payments, is rapidly becoming the most prominent and way for customers to pay for their shopping. A growing number of shoppers are replacing cash money transactions with the convenient of credit card payments. This growth is prominent with Internet transactions, over the phone transactions and traditional points of sales transactions.

Utilizing TRANZILATM as the payment gateway for on line transactions allows merchant, to accept the leading international credit cards:





TRANZILA provides a range of services, designed to equipped the merchant with the best set of tools for executing on-line transactions with ease and security. The merchants account options includes:

| | |
| --- | --- |
| | E-commerce payments platform |
| | Manual payment solution for call centers |
| | Invoice module for automatic invoicing issuing |
| | Recurring payments system for automatic payments |
| | Fraud detection suite |
| | 3D secure solution |
Working with TRANZILA
TRANZILA was designed to assure fast, flexible and easy integration. The interface process is simple, and does not require installation of hardware or software components on the merchant's server. TRANZILA works using the ASP model (Application Service Provider)- the application runs on remote servers and therefore can be easily integrated with all operating systems and programming languages. Information is transferred in HTTPS or a secure socket can be opened on a specific port, improving security significantly.
There are no installations of a DLL's or any other component needed on your website. TRANZILA require that your "checkout form" will be protected by SSL
On Line payments for E-commerce
TRANZILA provides credit card payments gateway for Internet merchants and on-line shops. Transactions are usually being generated by on-line users who place their credit card information on a secured website form. TRANZILA captures the transaction information and sends it to the appropriate acquiring credit card company for real-time confirmation, processing or verification. TRANZILA will receive on-line approvals or rejection from the credit card companies and will update the merchant's application or website.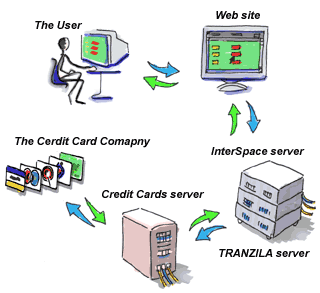 TRANZILA's advanced on-line web interface, will allow the merchant to securely access his on-line control-panel. The advanced control panel provides advanced transaction reporting management options.
Point of Sale payments and Telesales – The next generation
TRANZILA's Virtual Terminal provides a state-of-the-art, point of sale, payment solution. The Virtual Terminal is used by merchants of all kinds, who handle manual credit card processing. By processing transactions through the Virtual Terminal, the merchants will upgrade their operations and work methods, while saving on work hours and manpower.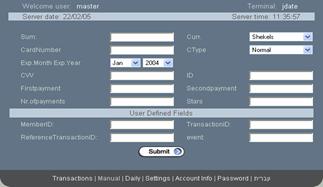 The Virtual Terminal was successfully Integrated and is used by:
| | |
| --- | --- |
| | Insurance companies |
| | Travels agencies |
| | Roaming salesman and agents |
| | Fast-food restaurants |
| | Law offices and accounting firms |
| | Call centers |



The Virtual Terminal simplifies the ordering process. It assures a speedy reply to the transaction quarries. The control panel adds intelligence and efficiency to the day to day operations of the merchants' sales, accounting and management staff.
Invoice application
New and advanced module from TRANZILA will fully automate the invoice issuing process.

TRANZILA enables merchants to automatically issue and distribute invoices. Through convenient web based interface, the merchant controls the look and feel of the invoices that are being generated by the system. A copy of the invoice will be e mailed to the customer, as soon as the transaction confirmation is being received.

Integrating the invoicing module will advance the merchants entire business operations by fully automating the payment cycle. The solution is fully integrated with TRANZILA credit card processing application


| | |
| --- | --- |
| | On need to install components on the server |
| | Ability to design the invoice |
| | Ability to add marketing notes to the invoice |
| | Documentation of all invoices that was made |
| | Quick and easy reports navigate |
| | Ability to export invoices logs |
For more info
3D secure
TRANZILA application is authorized by the credit card company's to operate 3D secure MPI (Merchant Plug-in) transaction gateway. For more information: www.3dtrust.com

For more info
Fraud Detection
TRANZILA provides advanced and flexible fraud detection module, helping merchants to manage the level of possible exposure to on-line credit cards frauds.

The growth of payments by credit card over the Internet, brings with it a growing risks as well. Both merchants and users may be susceptible to on-line frauds. TRANZILA can provide Internet merchants with a smart, configurable set of screens allowing the merchants to asses and apply transaction restrictions. The merchant may apply restrictions policies and reject suspicious transactions.

The Fraud Detection Advantages

| | |
| --- | --- |
| | Flexibility – The merchant sets his own dynamic fraud detection parameters. |
| | Ability to test geographic parameters |
| | Intelligence- On the fly risk management analyses |
For more info